UPCOMING SHOWS
We will announce our next show presence as soon as possible.
Please plan to join us and add to your enjoyment of the hobby!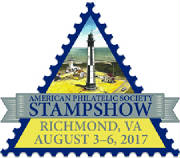 APS StampShow 2017 - Richmond, Virginia
StampShow 2017, the 131st annual convention of the American Philatelic Society, was held in Richmond, Virginia, from August 3rd through August 6th. The 2017 show featured 100+ dealers, societies, live auctions, literature and philatelic exhibits, more than 100 meetings and seminars, and first-day-of-issue ceremonies for new stamps.

On Saturday, August 5th, the International Philippines Philatelic Society and the USPPS held a joint meeting from 12:00 noon to 2:00 pm, which included a presentation by Craig Eggleston entitled "Uncle Sam's Post Office in the Philippines, the Initial Year".
Collectors of Possessions material attending the show also found representatives on hand from the Canal Zone Study Group and the Cuban Philatelic Society of America. As always, this year's event provided a good opportunity to learn more about areas of interest and share in the social aspects of collecting!

WESTPEX 2017 - San Francisco, California
The Society joined with members of the International Philippine Philatelic Society for a meeting at the WESTPEX 2017 Stamp Show, held from April 28th through the 30th. The show was located in the beautiful San Francisco Airport Marriott Waterfront at 1800 Old Bayshore Highway in the San Francisco suburb of Burlingame.

This was the 57th annual WESTPEX Show and featured some 300+ pages of material on exhibition, as well as 75 dealers from around the world. The exhibits included five Philippine exhibits occupying 17 frames by IPPS members James Larot, Richard Miggins, Nestor Nunez (2), and Tommy Sim.

The International Philippine Philatelic Society held its Annual Meeting, including the presentation of the IPPS Lifetime Achievement Award to Ron and Barbara (recently deceased) Maineri. The meeting also featured a presentation by Jan Markels entitled "Taal Volcano".

Attendees were able to learn more about key Philippine philatelic items during an Exhibitors' Tour of International Philippine Philatelic Society member exhibits on the final day of the show.


Sarasota National Stamp Exhibition 2017 - Sarasota, Florida
The USPPS had a joint table with the Cuban Philatelic Society of America and the Canal Zone Study Group at the Sarasota National Stamp Exhibition from February 3rd-5th, 2017. The CPSA and USPPS had a joint meeting on Saturday at noon, while the CZSG met at 1:00 pm, both in the Bay Front Center of the Sarasota Municipal Auditorium. The Society had copies available of our NY Show Special Issue ("Introduction to Collecting U.S. Possessions' Stamps and Postal History") as well as Geoff Brewster's new book "Plating the [PI] Legislative Palace Issue of 1926".



APS StampShow 2016 - Portland, Oregon

While we did not have a table at APS StampShow 2016 in Portland, Oregon, we had a joint meeting with the International Philippine Philatelic Society where Craig Eggleston gave a talk entitled "1898 U.S. Postal Cards (Philippine Military Postal Stations)" .


World Stamp Show - New York 2016
USPPS/IPPS Booth with members...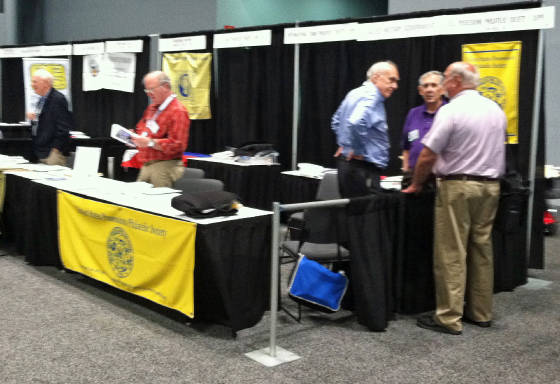 (l to r) Don Peterson, Jim Smith (AMGCC), Craig Eggleston, Joe Napp and Dan Undersander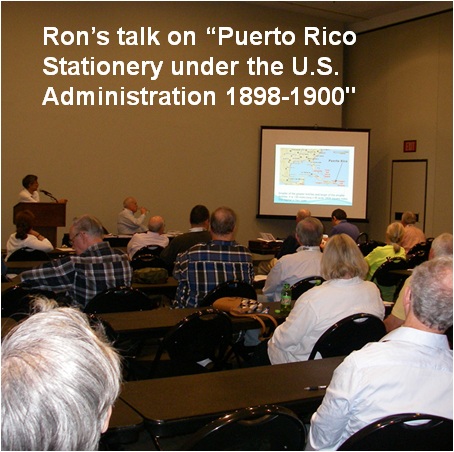 Ron's Talk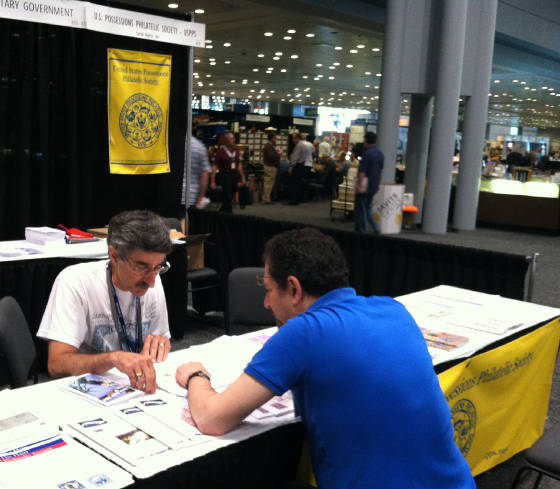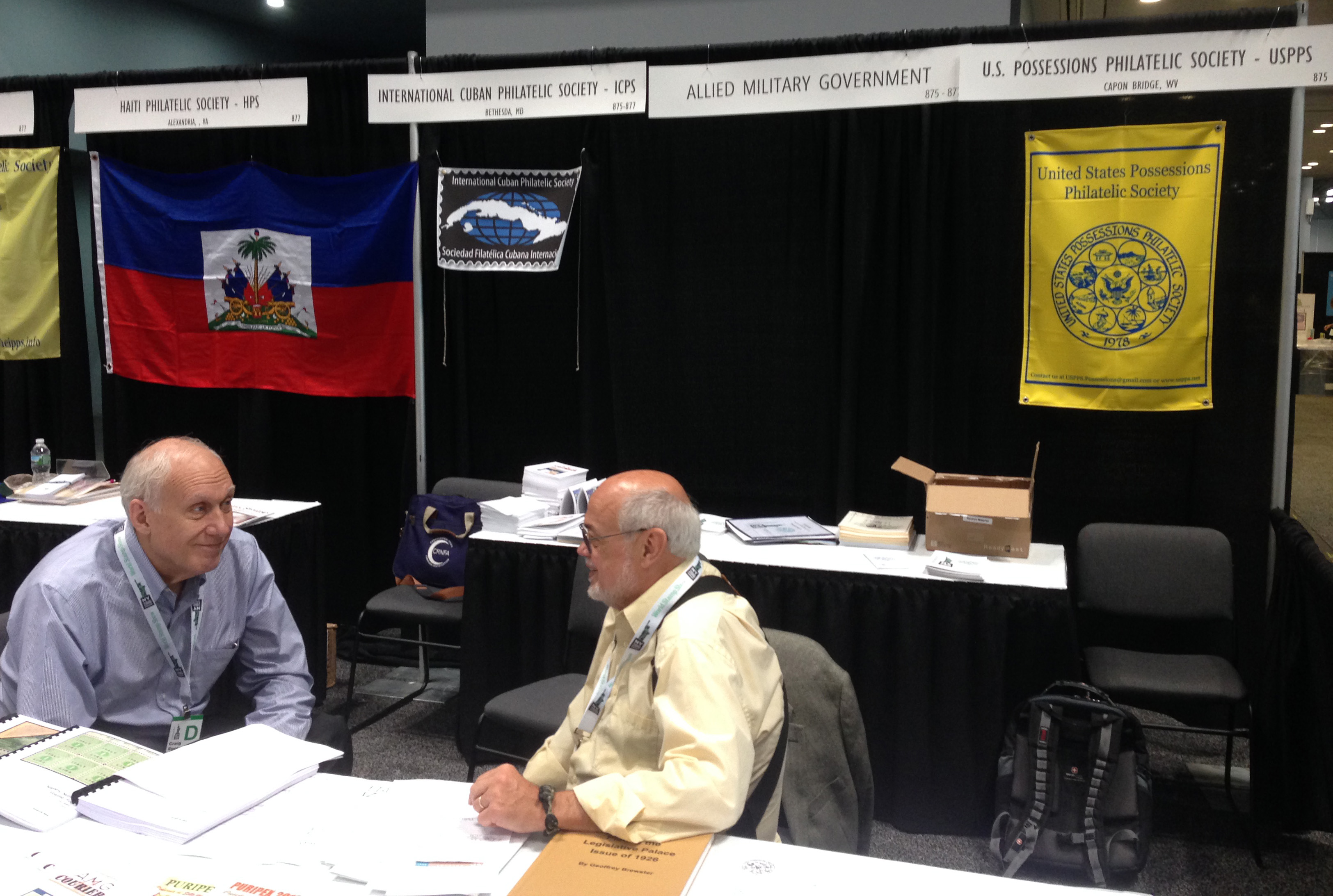 Booths 875/877 at the World Stamp Show in New York were the hub of activities for the USPPS along with the International Philippine Philatelic Society (IPPS), the Allied Military Government Collectors Club (AMGCC), the Haiti Philatelic Society, and the International Cuban Philatelic Society (ICPS). While not listed in the program, we also had literature from the Sociedad Filatélica de Puerto Rico, the Ryúkyú Philatelic Specialist Society and the Hawaiian Philatelic Society.

Over 30 people attended the joint USPPS - IPPS meeting on Monday, May 30th, where Dr. Ron González gave a talk on "Puerto Rico Stationery under the U.S. Administration 1898-1900," and Rich Pederson gave a talk on "Collecting Allied Military Government Stamps and Covers."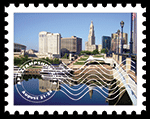 APS StampShow 2014 - Hartford, Connecticut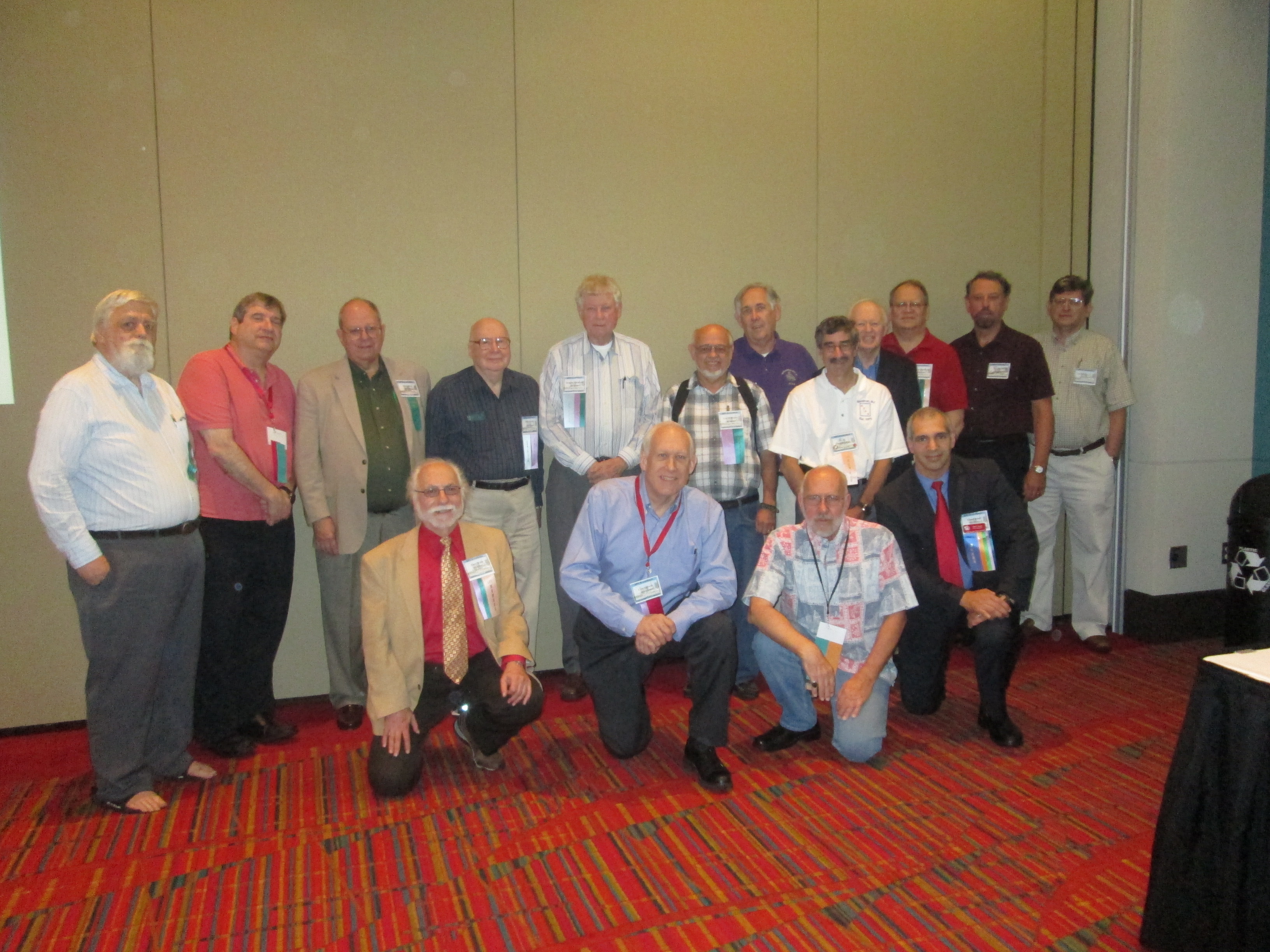 Attending our meeting in Hartford at the 2014 APS StampShow included Dick Bates, Roger Brody, Ray Cavanaugh, David Chiong, Elliott Coleman, Craig Eggleston, Jim Forte, Ron González, Darrell Kinzler, Yamil Kouri, Al Kugel, Les Lanphear, Doug Lehmann, Bill Matthews, Len McMaster, John Morrison, Joe Napp, Don Peterson, Rich Small, David Steidley, Gary Weiss, and David Zemer




Sarasota National Stamp Exposition - February 2014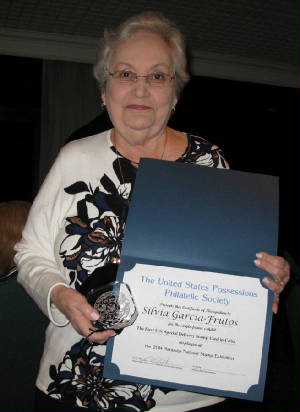 Silvia Garcia-Fritos, with her USPPS certificate and award for her single-frame exhibit "The First U.S. Special Delivery Stamp Used in Cuba," at the Sarasota National Stamp Exhibition in February 2014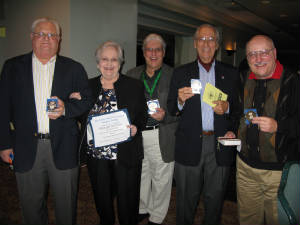 Members attending our meeting at the 2014 Sarasota National Stamp Exhibition. Pictured left to right, Arturo Codina, Len McMaster, Silvia Garcia-Fritos, Alex Blanco, Octavio Cabrera, Ed Carney, Fernando Iglesias, and Cristóbal Martínez. Others attending, but not pictured included Les Lanphear, Richard Livingston, and Phil Stager.



ARIPEX 2013 - Mesa, Arizona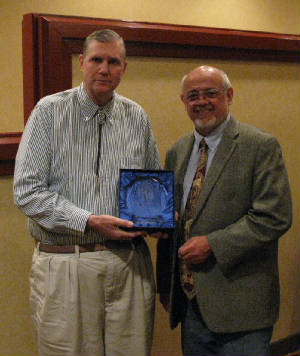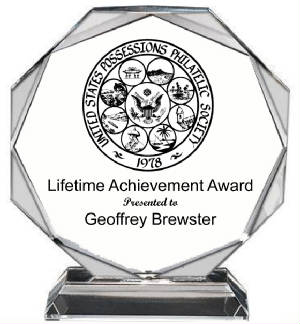 A Report on ARIPEX 2013
by Len McMaster
The USPPS had a Society table and meeting at ARIPEX 2013, held April 19–21 in Mesa, AZ. At the meeting Geoff Brewster presented several items as part of the "show and tell" format and we briefly discussed the reprint of his Philippine Flights series the Society is releasing on CD. While there were no U.S. possessions competitive exhibits, Geoff had an 11-frame non-competitive exhibit of all the U.S. possessions stamps, an excellent display of our collecting interests. We had several individuals stop and talk to us at our table, signing up seven new members, including James Green (CA), Steve Gross (AZ), Larry Weinstock (OR), John Wynns (AZ), Max Schwartz (TN), Bill Woytowich (AZ), and Jon Krupnick (FL).
USPPS Lifetime Achievement Award Presented
At the ARIPEX awards banquet Saturday evening, I had the honor of presenting Geoff Brewster with a USPPS Lifetime Achievement Award. In 1978 Gil Plass started the USPPS by himself, and was editor of our journal, Possessions, for 14 years, 1978–1992, producing Whole Nos. 1–56. Geoff Brewster was appointed our first president by Gil and served 8 years from 1978–1986. With Gil and Ken Koller, he wrote the USPPS constitution and aggressively promoted our new society, publicizing it in the general philatelic press, arranging for USPPS meetings at stamp shows, and serving as our representative to the APS (Affiliate #99), a position he still holds today.
In 2002 Geoff became president again, serving until 2010. He served a total of 16 years as USPPS president, almost half our 34-year existence.
Geoff was editor of Possessions for ten years from 1999 to 2010, responsible for 43 Whole Nos. (71–113). Geoff was also vice-president from 1990 to 1994, and served as secretary-treasurer from 2006 to 2010. From 2002 until 2010 he essentially held our organization together single-handedly.
As an author, he has been responsible for more than 200 articles in Possessions alone, making significant contributions to the study of U.S. possession stamps and postal history.
Soon after the show I received the following note from Geoff: "I wish to thank the USPPS for the award it recently gave me, not so much for the item itself—which is certainly attractive and of fine quality—as for the sentiment behind it. I only wish our founder Gilbert N. Plass was still here so that the USPPS could honor him at least similarly, for having firmly established our base and by excellent example having blazed our path for the future."

We plan to have a joint table and meeting with the IPPS at the 2013 APS StampShow being held August 8–11, at the Delta Center, 200 West Wisconsin Ave., Milwaukee, WI . Craig Eggleston will give a talk on "American censorship of civilian mail during World War One: new research from the censorship office in Manila" at our meeting. We also hope to present both single- and multi-frame exhibit awards for the best U.S. possessions exhibits.

APS StampShow 2012 - Sacramento, California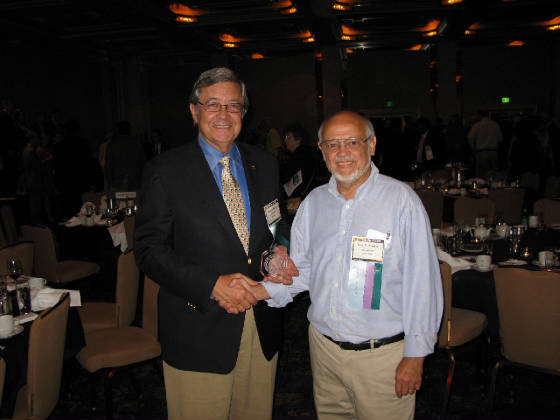 Jack Thompson (left) and Len McMaster (right)
The Sacramento APS show, August 16-19th, 2012 was a great show for us. We had over 20 members and others sign the guest list, and we signed up two new members. We also had several members winning awards.

Richard Malmgren: World Series of Philately Prix d'Honneur for his exhibit "Hawaiian Foreign Mail"

Fred Gregory: Literature Grand and Gold for his book Hawaii Foreign Mail to 1870

Possessions: Literature Vermeil for Volume 32 (2011)

Doug Lehmann: Gold for his exhibit "Maintaining the Tax System During the Japanese Occupation of the Philippines (1942–45) with No Paper Imports or Operating Paper Mills Available"

Rick Miggins: Gold for his exhibit "Philippines: 1954–1963 Documentary Overprints on 1947 Internal Revenue Stamps"

Jack Thompson: Gold and USPPS Multi-Frame Award for his exhibit "The Spanish American War and the U.S. Administration in Cuba"

Rick Miggins: Single Frame Grand, Gold, Errors, Freaks & Oddities Collectors Club, United States Postal Stationery Society, and USPPS awards for his exhibit " Philippines: 1948 Embossed Postal Envelope - From Model to Final Die"

Philadelphia National Stamp Exhibition - March/April 2012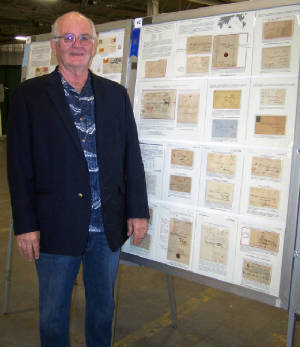 At the Philadelphia National Stamp Exhibition (PNSE), in March at the Greater Philadelphia Expo Center in Oaks, Pa., member Richard Malmgren won not only our first award (along with a PNSE gold) for his Hawaii Postal History exhibit, but also won the Postal History Society Award and the PNSE Grand Award. Congratulations to Richard!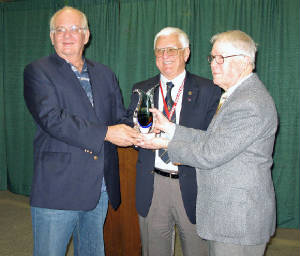 APS AmeriStamp Expo 2011 - Charleston, South Carolina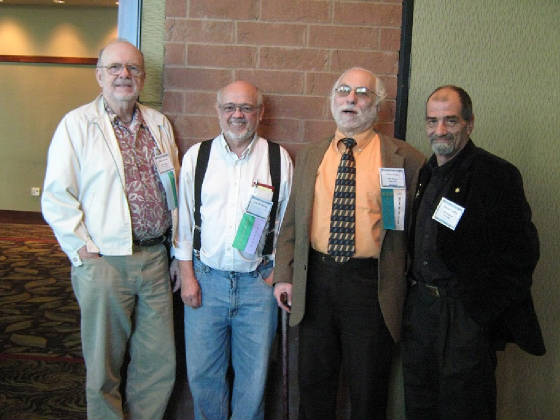 USPPS members at Charleston APS Show